20 Anti Smog Guns To Be Installed For Curbing The Increased Pollution Levels In Delhi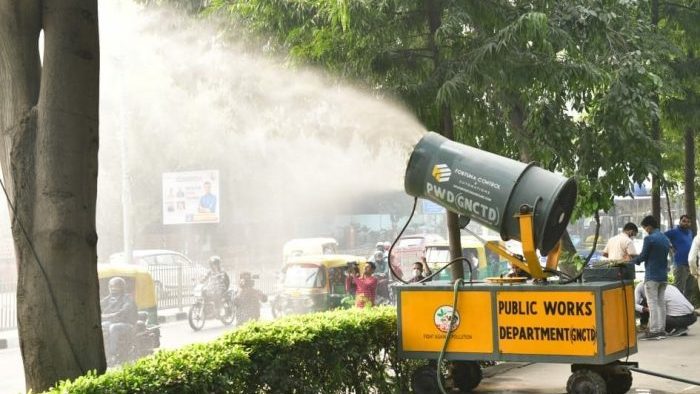 Read in: English
Delhi Environment Minister Shri Gopal Rai informed that water sprinkling has begun on Delhi roads with big anti-smog guns for curbing the increased pollution levels post Diwali. 20 such anti-smog guns will be installed at the intersections in Delhi with higher pollution levels. Environment Minister also inspected anti-smog guns installed near ITO.
Shri Gopal Rai said, "The results of the Delhi Government's campaign against pollution, which had been running for the past month of October, have been optimistic. He said, "The pollution levels in Delhi, in October, have been the lowest in the last 5 years. However, these levels have been increasing in the past 3 days. There are two reasons behind this. First, the incidents of stubble burning have increased. In the last week of October, incidents of stubble burning happened at 1000 places. Today, NASA images have shown that stubble burning is happening at 3500 places. What you see today is the impact of these 3500 instances, instead of the previous 1000."
Shri Gopal Rai stated, "We will continue our campaign, and the PWD will issue standards and norms for the roads inside Delhi. Smog guns are being installed by the PWD on roads inside Delhi, starting today. We have instructed them to install 20 big and rotating smog gun machines across Delhi. In the areas where pollution levels are high, the Delhi Government will start sprinkling water today to bring down the increased pollution levels".
---
Read also: Some People Wants To Weaken The Campaign Against Pollution By Linking Firecrackers With Religion: Gopal Rai
---
He added, "Even though the number of stubble burnings has increased, we are still hopeful that the situation will improve slowly. At the government level, we will increase our efforts to reduce pollution. Starting today, the process of water-sprinkling through these smog guns will start across Delhi".
Speaking about stubble burning, he went on, "If stubble burning is happening today at 3500 places, it's bound to have an impact. We feel that this number will increase in the upcoming days. The estimates presented by the agencies show that the process of stubble burning, which had slowed down because of the rain, has started again at full steam. We strive to reduce the pollution inside Delhi. We initiate it, and it's the responsibility of the police to handle the enforcement".