Some People Wants To Weaken The Campaign Against Pollution By Linking Firecrackers With Religion: Gopal Rai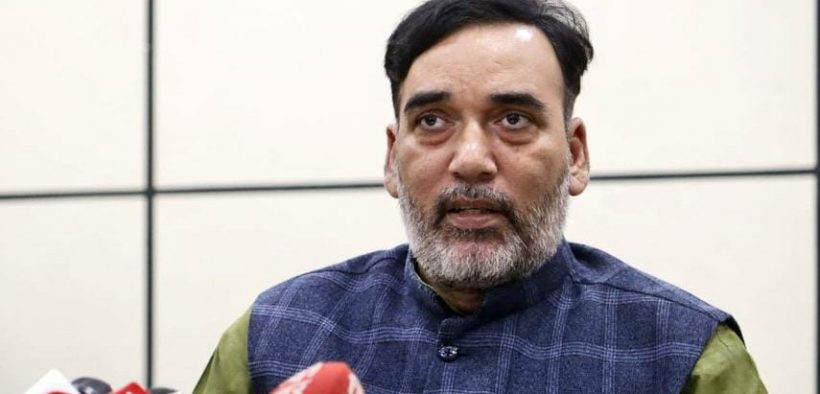 Read in: English
While the Kejriwal Government is working day and night to reduce pollution some people are trying to weaken the campaign against pollution by linking firecrackers with religion for their political ambition. Environment Minister Gopal Rai had appealed to all political parties to not play with the lives of Delhiites for political gains.
Environment Minister Gopal Rai said, "Diwali is a festival of happiness. However, it has come to our notice that many people are bursting crackers in secrecy. Patrol teams have been formed in all the police stations of Delhi, which have started work of patrolling the areas of Delhi already. So far more than 13 thousand kg of illegal firecrackers have been recovered and 33 people have also been arrested. Yesterday, we had given instructions to all police and SDM teams for 24-hour patrolling and surveillance and all of them have since been working accordingly."
"At the same time, some people are trying to weaken this fight against pollution for their political ambition by linking firecrackers with religion. To those people, I want to appeal with folded hands, that do not play with the lives of the children and elders of Delhiites for your politics. Diwali is celebrated with lamps, not with firecrackers. Even last year, we observed that many people had secretly distributed firecrackers due to their stubbornness. I appeal to all that, in this fight for Delhi, if everyone has fought together and the weather has favored us enough to have the pollution levels in 5 years, please cooperate in making it better," he said.
He added that the whole of Delhi has fought this battle together, due to which Delhi's pollution level was the good one day before Diwali in the last few years, but with support, it can be made better.
The level of AQI in the month of October 2021 was 173. Shri Gopal Rai said that when our ancestors started celebrating Diwali, there were no firecrackers. It is the result of the cooperation of the people that Delhi is getting success in reducing its share of pollution.
---
Read also: Delhi's 6th Sero-Survey: Over 97% of People Have Antibodies Against Covid19
---
Environment Minister Gopal Rai said, "the entire country is going to celebrate Diwali with great pomp and show. For the last few years, on the occasion of Diwali, we do celebrate with Diyas. But the worry of increasing pollution lingers. However, if we were to look at the pollution statistics of the past 5 years, it is for the first time that pollution levels are this low a day before Diwali."
"The monsoon this year positively affected the AQI. We did an anti-dust campaign across Delhi, held conversations with both government and private agencies, formed a composite team of DPCC's Green Marshalls. This campaign ran from 7th October and around 30 teams of DPCC personnel along with the SDM's monitored the situation across Delhi. Even now, around 2500 construction sites have been visited by various agencies. These agencies examined whether or not the government's guidelines were being followed at these sites," he added.
"Along with the anti-dust campaign, as announced by the Chief Minister under the Mentor Action Plan, the "Red Light On Gaadi Off" campaign was rolled out. At various intersections across Delhi, an awareness campaign is being run by the ministers, MLA's, councilors, and the RWA. We are elated to say that the public has been supporting this campaign. In Delhi, the "Patake Nahi Diya Jalao" campaign was also initiated by the government," he said.
Shri Gopal Rai said, "With this campaign to connect with the youth, we launched an online chatbot. Today, thousands of youth under this campaign against pollution are working towards making people more aware. Along with the anti-cracker campaign, the Chief Minister had started a bio-decomposer to melt the paddy stubble produced inside Delhi. We started a campaign across Delhi and last time, around 2000 acres were sprayed. This time we have received applications for spraying in fields spanning across more than 4000 acres, in total."
Appealing to the Union Government, Environment Minister Gopal Rai said, "a necessary advisory should be issued today that the practice of stubble burning which has started in Haryana, Punjab and Uttar Pradesh should be stopped at least on the occasion of Diwali so that the people can celebrate Diwali in a joyful atmosphere and also be spared of the stifling atmosphere that prevails after Diwali."