A Couple Could Not Hug Their Newly Born Baby Girl As Both Turned COVID19 Positive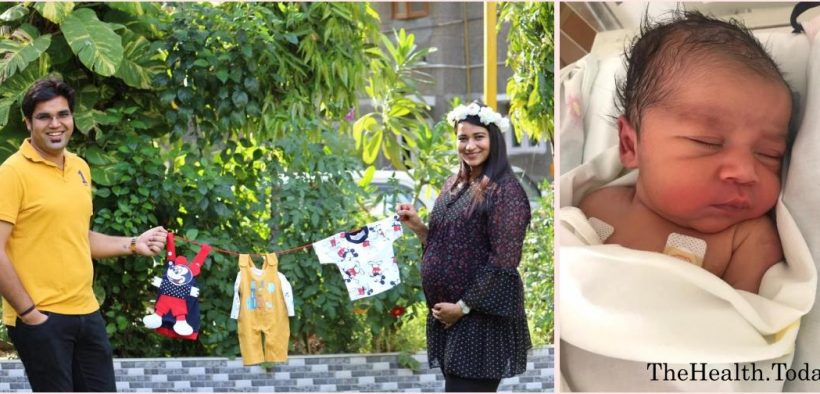 Read in: English
A couple living in Delhi had a pregnancy shoot just a month before and delivered a healthy baby girl yesterday at Indraprastha Apollo. But they never thought in their wildest dream that both would test positive for COVID19 before the delivery of the baby. Fortunately, the newly born has tested negative for COVID19.
"My sister with her friend arranged a pregnancy shoot for us before the lockdown. But we never thought that we both would test positive for COVID19. We both are quarantined and could see the photos of the baby only. My wife is very strong. She successfully gave birth to a baby girl in the 39th week of her pregnancy without a C-section," the father of the newly born baby told TheHealth.Today.
Dr Ajay Sinha, Senior Consultant, Internal Medicine at Indraprastha Apollo, said, "Pregnant women are at a high risk of contracting COVID19 as compared to any other adult.  Though not all have serious complications if affected by coronavirus and only experience mild to moderate flu-like symptoms, it is important that extra care and precautions are taken for treatment and management of pregnant women who are COVID positive, for the well-being of the mother and the unborn child. In this case, she was tested COVID positive after going through a compulsory COVID 19 test pertaining to the current situation, days before her due delivery date."
---
Read also: A Man Burnt Himself Accidently From Alcohol Based Sanitizer
---
Post-delivery while the mother and the child have been kept under observation in isolation. Both of them are doing well. Given the circumstances the family has not been able to meet either the patient or the baby. But the nursing team has been taking care of them at Apollo.
Dr Kiranabala Dash, Consultant, Gynecology, said, "Patient was a COVID positive, hence we had to be extra cautious to ensure that no harm is caused to either the mother or the child. After gradually progressing into labour she delivered a healthy baby girl. During this entire procedure we ensured that infection control was practiced, and the teams were equipped in PPE kits. All measures were taken to ensure the child does not contract any virus."
Treating a COVID positive pregnant lady can be challenging as during labour her condition of respiratory distress can deteriorate within no time. Her blood pressure can fluctuate causing damage to other organs of the body. The Neo-natal team lead by Dr Atul at Apollo is extremely skilled for management of such a procedure; the teams were extremely well prepared and aware of the co-morbidities to tackle such a procedure where two lives are at stake, Dr. Dash added.