Food Dept Unveils 'Sehatmand Delhi' Mission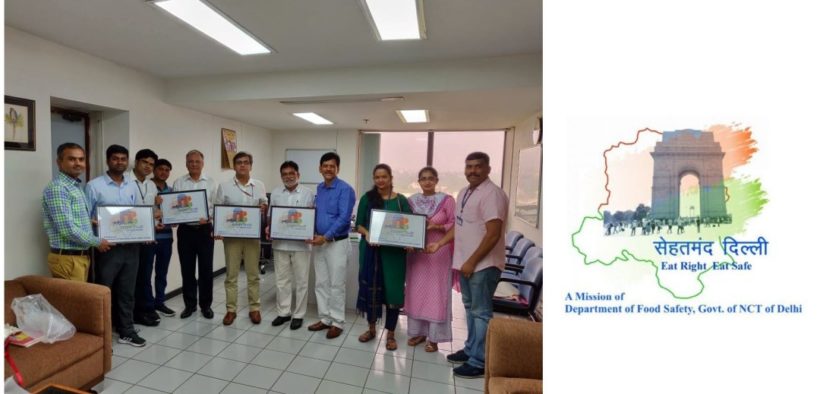 In a bid to sensitize people over healthy eating and food hygiene, the Delhi government's Food Safety department has started its food safety campaign called 'Sehatmand Delhi'.
While unveiling the mission logo, Sanjeev Khirwar, Principal Secretary (Health) said, "We are working on a comprehensive strategy to work for better health of residents of Delhi. It is for the first time that the department has launched the Food Safety Campaign in mission mode and there is a strong need to work in mission mode for healthy Delhi."
"The mission –'Sehatmand Delhi' would work on four-pronged strategy. These are: creating awareness about healthy diet and healthy lifestyle, eradication of synthetic colour in food items, drive to ensure comprehensive licensing and registration of all food businesses across Delhi," said L.R. Garg, Commissioner of Food Safety, Department of Food Safety.
"The effects would be visible in next 2-3 months. The department has set a deadline of three months and would come up with an outcome report on 2nd October 2019, when the nation would be celebrating 150th Birth anniversary of Mahatma Gandhi," said D.O. (Head Quarter) A.K. Singh.
It is being done with compliance to provisions of Food Safety Standards Act, 2006, including Schedule IV (Food Safety and Hygiene Requirement), and coverage of Food Business Operators (FBOs) under FoSTaC (Food Safety Training and Certification) requirement.
The Department has also started a drive to reach out to 4.5 lakh business owners in Delhi to propagate the word "Eat Right and Eat Safe" through awareness campaigns, distribution of Self Testing kits to check adulteration of food items.
"We are creating awareness among school children. Hence, we have reached out to various schools in Delhi and parents through summer projects, which lays emphasis on No Junk food, and adoption of healthy lifestyle," said the official.
In the coming days, Food Department is likely to promote this logo in Delhi for embedding it on the packets of food items and articles.