AIIMS Doctors Wear Helmets And Bandages Against The Violence On Doctors In West Bengal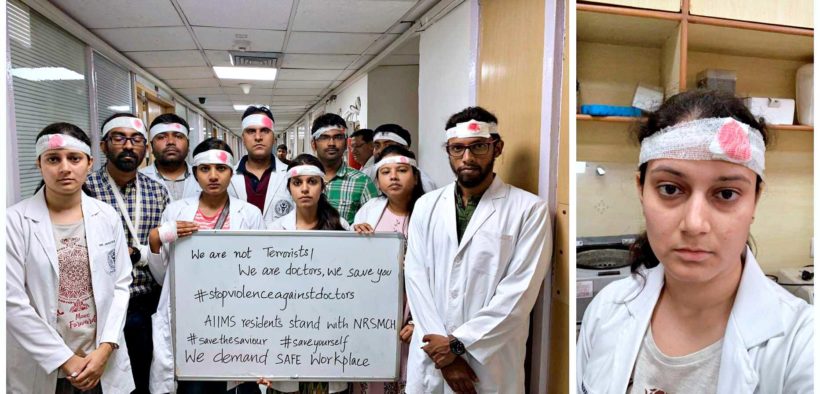 Doctors from All India Institute of Medical Sciences (AIIMS) treated the patients wearing bandages and helmets on Thursday against the ongoing violence inflicted upon doctors at a government hospital in Kolkata earlier this week.
Dr. Paribha Mukherjee, a young doctor, at the NRS Medical College and Hospital, Kolkata, were attacked and physically harmed after the death of a patient. He is critical and fighting for his life.
Many health-care facilities at state-run medical institutions and a number of private medical facilities in West Bengal have not been functioning for the last two days as a mark of protest.
Demanding safe workplace, all government hospitals went on strike in West Bengal while many other health-care institutions have joined the protest on Thursday.
Dr. Amrinder Singh, President, RDA, AIIMS, New Delhi told TheHealth, "The patient was brought to the emergency department as a case of septic shock. During a normal physiological process patient lost its life. If the relatives of the patient had any apprehension of a case of negligence, they could have knocked the door of appropriate authority. Doctors do not deserve to be beaten up by heavy objects and iron rods".
Violence against health-care workers has become a great issue in health-care organizations, Dr Singh added.
There has been a cross-sectional study done by Indian doctors over the increasing cases of violence on Health-care Workers last year.
Study states that workplace violence against health-care workers (HCWs) at health-care organizations (HCOs) is spreading globally. The reporting rate of violence is significantly low (23.5%), in spite of high prevalence (34.5%) of such cases.
It has become a leading concern for the doctors, nurses, hospital administrators, politicians and other staff working in the hospitals.
Dr. Harsh Vardhan, Union Minister for Health and Family Welfare has expressed concern on the same issue. Strongly condemning the violence, he said, "It is necessary and important for the doctors to get a safe work environment. Doctors are an integral pillar of the society and often work under stressful and difficult conditions. I urge patients and their caregivers to observe restraint".
He also urged the doctors to observe restraint so that essential services to the people are not disrupted.
The consequences of workplace violence in the health sector have a significant negative impact on the health of the staff and the effectiveness of delivery of health services, especially in developing countries such as India. There is an interrelationship between stress and violence in the workplace.
All the major health-care institutions are likely to join the protest and planning to observe Black-Friday tomorrow to extend the protest.